Apache 37 Interior
---
Second Sojourn's interior was modified from a Stock Apache 37 to accommodate the new engine placement forward in the main cabin. The Port berth was converted to almost a double, the chart table to port was replaced with the L shaped galley countertop. To starboard aft there is a quarterberth, and just forward to that is the narrow cooler.
In the winter of 01/02 I decided to increase the galley storage. Turned out that the cavernous port lazarette had plenty or room to install a galley cabinet aft of the galley. This would be used for dishes mostly. Here is the galley all taken apart: no countertop, sink, stove or drawers. Note the new plywood cabinet tucked in below the deck.
My chosen construction technique is 3/4 hardwood plywood with rabbeted and screwed joints, and no glue. I chose this approach because then it can be taken apart. It will be painted off white inside and trimmed in mahogany. I used 1 3/8" galvanized sheet rock style screws mostly. Ideally you're not supposed to screw into plywood end grain, but the combination of these aggressive threads and the thick, hardwood plywood, plus rabbets and dadoes on most joints made for very strong and simple, take-apart-able joints.
For plywood I used scraps laying around the shop: Oak, Poplar and Birch veneer. Some Baltic Birch. It'll all be sealed and painted so the finish isn't important.
There was not much support so I glassed in a piece of plywood to the hull to support that end. One of the challenges is that like most things on a boat, there is no such thing as a right angle. Fortunately the galley countertop was flat enough to use as a reference. Needless to say I did a lot of test fitting of each piece and got plenty of exercise ladder climbing.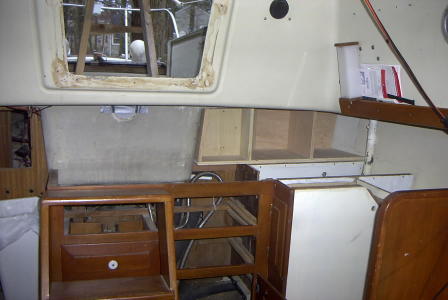 Below is an original Apache interior layout, probably the one that came with Second Sojourn. Next is the optional dinette interior. Then is Second Sojourn's modified interior. Ironoically, after all this work I don't have a photo of the finished product. Someday....

Original Interior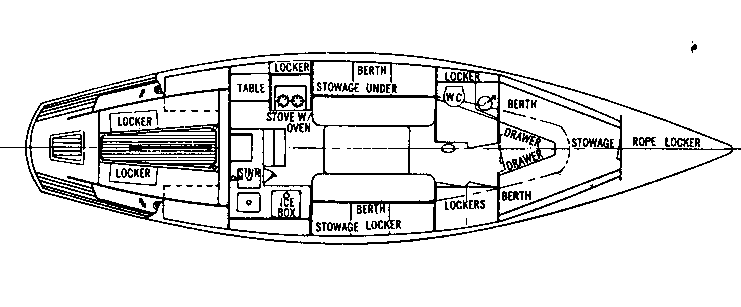 Original Dinette Interior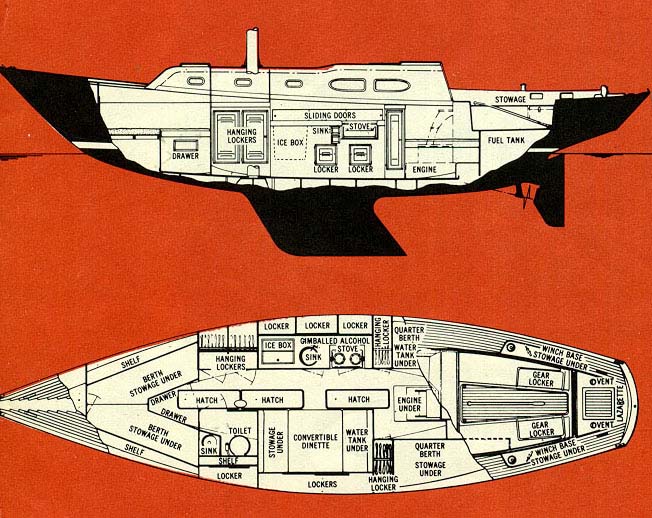 Second Sojourn Custom Interior



---